Ingrown Toenails Treatment in Baltimore, Lutherville & Dundalk MD
Symptoms of Ingrown Toenail
Our podiatrists treat ingrown toenails in the areas of Baltimore, MD 21215 & 21206, Lutherville, MD 21093 and Dundalk, MD 21222. Call our offices today: Baltimore, MD 21215 & 21206 at (410) 764-7044; Lutherville, MD 21093 at (410) 764-7044; Dundalk , MD 21222 at (410) 288-0666 if you are dealing with ingrown toenails.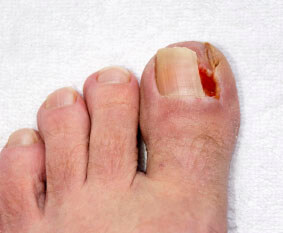 Signs that may indicate the formation of an ingrown toenail include redness, pain, swelling of the surrounding skin, possible bleeding or oozing of pus, and an overgrowth of the skin around the nail. The surrounding skin may also feel tender and become swollen or hardened. Most ingrown toenails are diagnosed by a simple physical exam; however, an x-ray may be required to show how deep the nail has grown into the skin of the toe.
Causes of Ingrown Toenails
Many factors influence the likelihood of developing an ingrown toenail. The most common way ingrown toenails are formed is due to an incorrect method in how the toenails are trimmed. If you cut your toenails too short or cut them at an angle, you're putting yourself at risk of getting this condition. Another main factor that contributes to ingrown toenails is the choice of footwear. Those who commonly wear tightly fitted shoes, such as high heels, that do not give the toes enough room, put too much pressure on the big toes. This can create an ingrown toenail. To alleviate the pain, a small piece of cotton may be fitted underneath the nail. However, in more serious cases, total removal of the nail may be necessary.
How to prevent ingrown nails
To prevent ingrown toenails, allow your toenails to grow a little longer and avoid cutting them too short. If you do develop an ingrown nail, soaking the toe in hot water will help prevent infection and lessen pain. You may want to add antibiotic soap or Epsom salts to the water, which will provide further protection against infection.
Ingrown Toenails Treatment
Treatment for an ingrown toenail varies between patients and the severity of the condition. In most cases, it is best to see your podiatrist for thorough and proper treatment. After examining your toe, your podiatrist may prescribe oral antibiotics to clear the infection if one is present. Surgical removal of either a portion of the nail or the entire nail may also be considered. In some cases, complete removal or destruction of the nail root may be required. Most patients who undergo nail surgery experience minimal pain afterward and can return to normal activity the following day.
For a proper diagnosis and advised treatment plan, we recommend you seek the care of a podiatrist as soon as you notice the warning signs of an ingrown toenail.