Heel Pain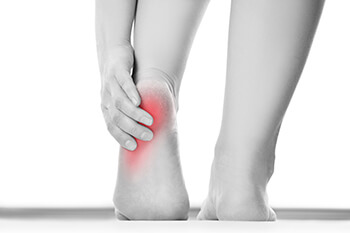 Heel pain is most commonly caused by repetitive stress. With that being said, it may be more common for athletes who perform repetitive movements to be afflicted with heel pain at some point during their activity. Heel pain can occur due to a number of different factors. These may include issues with having poor circulation, complications due to arthritis and diabetes, and poor form when running or exercising, as well as having poor posture.
There are a number of conditions that may also influence pain felt in the heel region. Tarsal tunnel syndrome is one example of a condition that affects the heel. This may occur when the nerve in the back of the foot becomes pinched, thus causing a numbing or tingling feeling as if the heel has pins and needles in them. Heel bursitis is another condition that commonly brings discomfort to the heel. This condition may arise when inflammation occurs at the back of the heel, often occurring due to landing awkwardly or wearing footwear that puts a good amount of pressure on the heel. As a result, the Achilles tendon may swell, causing the pain to increase throughout the day. Simple exercises focused on strengthening the heel and surrounding areas, as well as focused on building the flexibility of the foot, may help to prevent and treat heel pain.
For a proper diagnosis and advised professional treatment plan, we recommend that you consult with a podiatrist as soon as possible to avoid developing a serious condition.